Terminating Child Support in Florida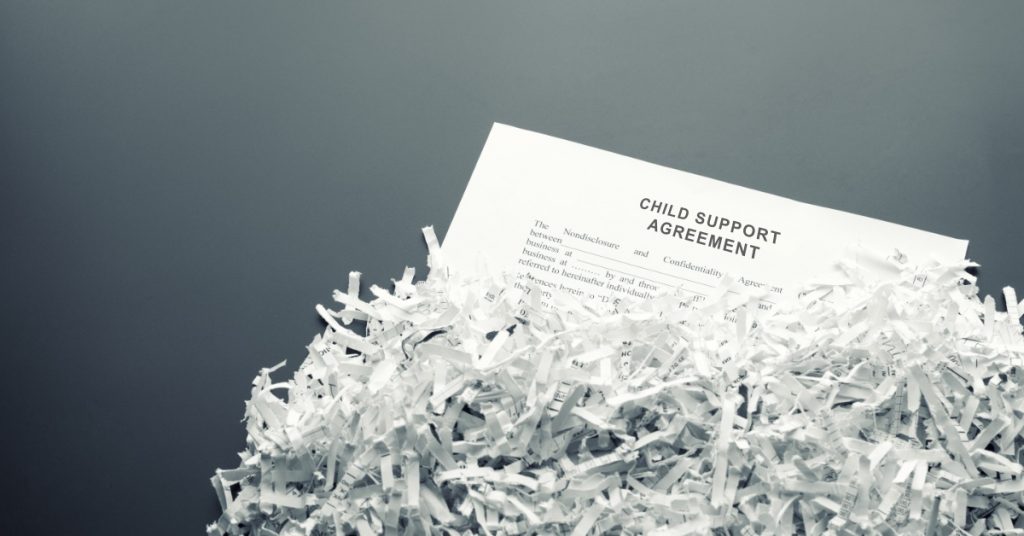 In this article, we'll break down:
Terminating a child support order in Florida is often an uphill battle. That's because in Florida, parents have a legal and moral obligation to support their child. Also, in child support cases, the court's objective is to rule in the child's best interest.
While it's difficult to terminate a child support order, there are instances in which termination is possible. If you believe that your child support obligation should be terminated, here's what you need to know.
3 General Provisions for Termination Built into Child Support Orders in Florida
In Florida, child support orders are required to state the following terms, each of which impacts the termination of child support in Florida:
1. An Acknowledgement that Child Support Ends When the Child Reaches Majority
In Florida, child support terminates on a child's 18th birthday. There are, however, some exceptions which are discussed below.
2. A Payment Schedule for the Support of Additional Minor Children After One Reaches Majority
If your child support order includes more than one child, the order will need to include a support schedule. It should outline the support a parent is obligated to pay for all minor children at the time the child support order is created, and, also, the amount obligated once one or more children are no longer entitled to receive support.
3. The Exact Date of Termination
Even if your minor children are very young, your support order needs to include a termination date specifying the month, day, and year that either the reduction or termination of child support will become effective.
Circumstances in Which a Child Support Order May Not Automatically Terminate
Remember that child support is created for, and owed to, the child, not the parent receiving the check. For this reason, child support payments may not terminate in circumstances where the child is unable to support themselves by the time they reach majority.
As a result, there are some exceptions to the three provisions above, which are captured in Florida Statute 743.07(2).
The statute includes an exception for cases in which a child is dependent on their parents due to a mental or physical incapacity that began before they turned 18 years old.
It also includes an exception to the termination of child support when the child reaches majority if they turn 18 before graduating high school. If there's a reasonable expectation that the child will graduate high school before they turn 19, child support can be extended to the time of graduation.
Child support doesn't necessarily terminate when parenting arrangements impacting support are modified, either. Changes to the custody or time-sharing plan are two prime examples.
For instance, a custody order may be modified when a minor child moves from the payee parent's home to the payor parent's home. This change could warrant a modification to the child support order, including the amount of support owed by the payor; however, the modification isn't automatic. The payor will still need to seek a modification through the court to reduce or terminate the support obligation.
5 Significant Changes in Circumstances That Can Terminate a Child Support Order
A child support order, including its termination provisions, is created with consideration for the child's age of majority, parental rights, and paternity, among other factors. But, what if one or more of these factors changes from the time child support is ordered to the time the order is legally scheduled to terminate?
The Florida courts recognize five specific and significant changes in circumstances that can terminate child support.
1. Death of the Parent or Child
If the parent or child passes away, the child support obligation is terminated. The courts cannot require child support to be owed once a payor is deceased unless the parent has agreed to those terms.
Because a parent's death and the termination of child support can harm the financial stability of the family and child, life insurance is an important consideration. In Florida, parents can be required to hold a life insurance policy for this reason.
Read more about How Insurance Impacts Child Support.
2. Adoption
When a child is adopted by a non-biological parent, the rights and obligations to that child by the natural parent are terminated. This includes any future child support obligations.
What it does not terminate, however, is any past, unpaid child support still owed by the birth parent. A child support arrearage is still owed to the child, and the court can enforce that support obligation in arrears after the child is adopted.
3. Termination of Parental Rights
If your parental rights are terminated, so is your obligation to pay child support.
An argument can be made, however, that despite the termination of parental rights, receiving child support is still in the best interest of the child. This argument has been made in child support cases in Florida including Ponton v Tabares 711 S0.2d 125, 126 (Fla. 3d DVA 1998).
In this specific case, while the court acknowledged "it is in the better interest of a child to retain his or her right to financial support from a parent after the termination of parental rights," it found no Florida precedent of a similar case. Without specific statutory authority in place, the court ruled that the husband's child support obligation terminated along with his parental rights.
4. Emancipation
In Florida, a child reaches majority at the age of 18, and, in most cases, a child's parent has a legal obligation to provide them with financial support until they reach majority.
There are, however, cases where a child reaches emancipation before majority. For instance, a child may join the military, get married, or become otherwise self-supporting.
In each of these cases, the child is freed from the control of his or her parents, and in return, the parents are no longer legally responsible for their child. When a parent is no longer legally responsible, they are, also, typically no longer financially responsible for the child, thereby ending their child support obligation.
There are, of course, exceptions, and multiple cases where a child's emancipation did not terminate a child support obligation.
For instance, what about child support obligations in cases where a minor gives birth to a child who also needs financial support? In a 1988 case, Doerrfeld v Konz, the court found that the parent was not relieved of providing child support to her minor daughter after the birth of her grandchild because the minor daughter was not financially independent and still lived at her residence.
It's also important to understand that in emancipation cases, termination of child support is not always automatic. In one case, a minor was married before reaching majority. Her father had originally agreed to provide child support until she graduated high school but, upon her marriage, believed that his child support obligation automatically terminated. However, the court ended up enforcing continued child support payments.
Why? Two reasons. One, the father did not seek a reduction in child support due to a significant change in circumstances. He simply assumed the reduction would occur automatically. Two, he did not prove that the termination of child support was in the best interest of his daughter.
There are also limitations to emancipation as justification for the termination of child support. We see this with self-supporting minors and the risk of potential exploitation on the part of the parent. To avoid exploitation, the court has established that a child's earnings should not be considered in determining the parent's obligations for child support because this would open the door for a parent to evade their duty to support their child.
5. Disestablishment of Paternity
Like with the termination of parental rights discussed above, if a presumed father successfully disestablishes paternity, he can be relieved of his child support obligation. In these cases, the presumed father not only terminates his support obligation, but he terminates his parental rights, as well.
Also note that if you're a payor attempting to disestablish paternity, you must be up to date on all child support payments, and there is typically no relief from child support payments that are owed in arrears.
Read more about Disestablishing Paternity in Child Support Cases in Florida.
How to Begin the Process of Terminating Child Support in Florida
Terminating child support is no easy task. This is especially true if your child support obligation is ordered through the court system.
RELATED: View All the Family Law Modifications We Handle
To successfully terminate child support, work with an experienced family law attorney like Larry Schott, who can help you through the process, and who will ensure that your rights are fully protected.Contact us today for a free family law case evaluation. We'll listen to your case, and explain your rights. When you're ready to work with a Florida family law and divorce lawyer to help you terminate a child support order, fill out the form on our Contact Us page or give us a call at (954) 880-1302